Summer is Here SEATTLE!!! (Um...Finally!)
Here's a few summer treats for you to indulge in:
Ben DeLaCreme: Terminally Delightful
in 3D
Ben is one of the only people I know who could put on a one-queen show, and have people get REALLY excited about. I cannot wait. For you fashion fans: You'll get a kick out of the sequin madness we created for him.
Runs every Friday for the next 3 weeks at the Rendezvous. $15. 8pm
http://www.brownpapertickets.com/event/114192

Celebrate French Independence Day ALL DAY!
ST. BASTILLE DAY Wednesday July 14th!
Start your day off by popping down to Seattle's Post Alley (next to the Pike Place Market), to Cafe Campagne (
http://www.campagnerestaurant.com
). Every year on this celebrated day, they fill the historic alley with chefs cooking up French cuisine, rivers of Wine, and entertainment. That's where I come in:
Myself, Miss Indigo Blue, and Babette La Fave will be dancing the Can Can periodically throughout the afternoon starting at 3pm. Also performing is The Shanghai Pearl.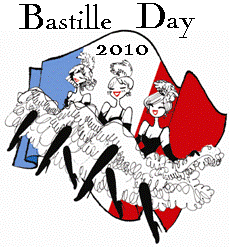 After Enjoying yourself in the Alley (now THAT is a sentence that could sound wrong if out of context), head on over to the Triple Door for a different take on Bastille Day:
Burlesque Producers Extraordinaire Kitten La Rue and Lily Verlaine come together on this night of entertainment utilizing all the sexy french music from the 50's and 60's. Serge Gainsbourg anyone?